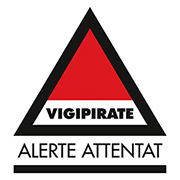 Following the terror attacks in Paris on November 13, 2015 and to ensure the safety of our visitors, the Cité des sciences et de l'industrie is strictly applying the security measures decided by the French authorities.
The Cité des sciences et de l'industrie is opened except on Monday. Please note that opening hours will remain the same.
Suitcases as well as oversized luggage cannot be allowed into the Museum. Only handbags and other bags (plastic bags or backpacks) less than 50 cm, 30 cm wide and 20 cm thick are admitted.
Nevertheless, they must be checked visually and with the magnetometer. Visitor who refuses to cooperate with the checks will be denied access to the Museum.
We apologize for the inconvenience and delay which may be caused by the extra security checks at the entrance.
Thank you for your cooperation.