all living beings are the ghosts of the future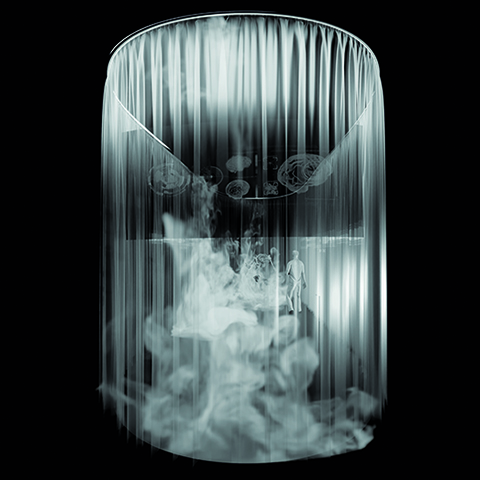 Faye Formisano, a textile design research artist and filmmaker, has transformed the Art & Science Gallery into "a laboratory haunted by dreams, science and our metamorphic powers".
The exhibition
She offers us a journey into the mental space of a scientist she has invented: Roderick Norman, the founder of oneirogenetics, the science of the formation and storage of dreams in the bones containing our DNA. Here, the idea is to extract an unknown skeleton's dreams. A scientific, dreamlike and minimalist fable: Roderick Norman is convinced that "Our bones contain all our species' secrets."
The installation revolves around three questions posed by the artist: how many dreams lie within me, how many genera lie within me, and how many species lie within me?
The film They Dream in My Bones, originally designed for virtual reality streaming, was adapted for the first room: instead of putting on a VR mask, we physically enter amongst the images via an installation composed of veils on which the artist has painted multiple images of the unknown skeleton. The video that plays at the end of the room is itself projected onto veils – fragile, mysterious images intimately linked by the weavings of the fabric.
In the second room the film Heaven in Matter, co-directed with Emanuele Coccia – a philosopher who specialises in the image and nature of living beings – speaks of the "weaving" of living beings, history and imagination, represented in the multiple metamorphoses of a map of the sky.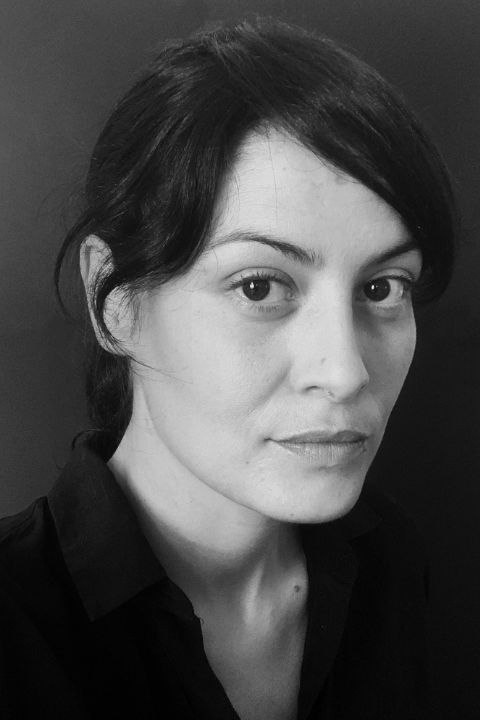 Faye Formisano
An artist, filmmaker and researcher, Faye Formisano lives and works between Paris and Lille. Insemnopedy I: The Dream of Victor F. (23'), experimental fiction (Panorama 21, curator: Jean-Hubert Martin; international selection Étrange Festival 2019; Les Utopiales 2019; International Festival Munich 2020), produced by Le Fresnoy – Studio national des arts contemporains. Draper l'image: uses and functions of the veil as a manifestation of uncertain identities in fantastic cinema, creative doctorate at the Université de Lille 3 (CEAC, Lille) and at Le Fresnoy, supervised by Laurent Guido and co-supervised by filmmaker Bertrand Mandico.
Born in France in 1984, Faye Formisano presents figures that are part-phantom, part fantasy, moving around in a surreal world haunted by the fraying of the bond between humanity and its environment. Trained in textile design, she collaborates with couture houses and choreographers and put on two live shows and made several dance videos before producing her first short fiction film at Le Fresnoy.